Yoga has been an important part of my life for more than 20 years. My personal practice has helped me stay fit, manage stress and anxiety, overcome injuries and heartache, connect with community and more. Teaching yoga has shown me how very versatile and inclusive the practice of yoga is, and how specifically applied yoga techniques can help others with their own health conditions and life situations.
My yoga therapy teaching journey began with back pain conditions as they plague over 80% of the population at one time or another. I went on to study trauma informed yoga therapy after learning how profoundly yoga affects our nervous system.
My fascination with the pelvic floor, however, began with my own incontinence issues. I have 5 kids, so sneeze pee was a real thing. After applying the "custom practice" I made for myself and having improved or removed my own symptoms, my interest in this taboo area of the body only grew. The more I studied and the more I learned from my amazing teachers, the more my passion has grown. Anxiety and back pain are things many people suffering with pelvic floor issues experience, so I feel very fortunate that all of my training and experience complement each other and the programs I offer.
Every day I feel grateful, as it is my privilege to sit with others and hold space for them as they discover their own inner wisdom and innate ability to heal.
Training & Experience
I received my initial Yoga Therapy training through Integrative Yoga Therapy and went on to receive my Trauma Informed Yoga Therapy training through Sundara Trauma Informed Yoga Therapy.
I have been practicing and teaching yoga for more than 20 years and practicing as a Yoga Therapist for the last 10. I customize my yoga therapy programs to meet my clients where they are and facilitate them along their path to healing, leaving them with the knowledge and experience to continue their practice on their own.
I am certified through The International Association of Yoga Therapists and specialize in anxiety and chronic pain conditions including back pain and pelvic floor dysfunction/pelvic pain.
My programs, services, and tools help clients relieve physical symptoms, reduce emotional distress, and alleviate the physical discomfort and emotional concerns they may be experiencing.
When I'm not on my yoga mat, I enjoy creating with my hands, hiking with my dogs, paddle boarding and spending time with family.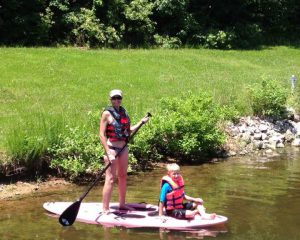 Want to know more about me personally?
Here are some fun facts:
I love to paddleboard
I once rode English and competed in horse shows in jumping and dressage
I am an avid hiker
I am the mother of five amazing kids
Six adorable boys call me Nana
4 rescue dogs of various sizes and breeds wiggled their way into my heart
I love making things with macramé and beads
My favorite place to read is in my car at the park